By Amy Poole
The 2nd Annual Tracy Dillon Mammogram Fundraiser Poker Run and In House Poker Run was a huge success. Tracy Dillon, announcer on WHOG radio and breast cancer survivor, started this fundraiser to assist men and women in Volusia and Flagler counties who are in need of a mammogram or other breast cancer detection. We all understand how important it is to get checked, but sometimes the funds are short and we put this obligation on the back burner.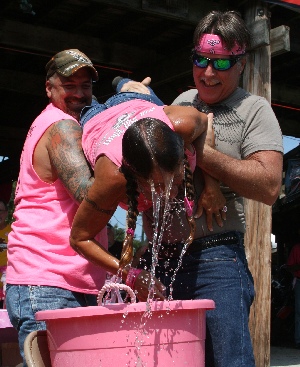 The Iron Horse held an in house poker run event all day. Peoples came out to show support by bobbing for boobs, ax throwing, tricycle racing and wearing our best pink while doing it! Willie's Tropical Tattoo was on site donating free pink ribbon tattoos which I think was a very nice gesture.
Sign up was at BFFAR with free breakfast and you could have your hair, beard, mustache or whatever you wanted sprayed PINK by Inflicting Beauty girls for just a donation. Many of you gals and guys participated in this! Our poker run stops included Finns, Pork Chop's Alibi Bar, White Eagle, and Saints & Sinners and ended at the Iron Horse for live music by Big Engine and Anthony Wild. We had a delicious and fresh lunch that was provided by Sloppy Joe's friendly staff. The best part was raffling Sherry off for $150 so Shane and Micah could dunk her…twice!!
We have so-o-o many sponsors and some new ones coming on board to support the community like J&P Cycles that donated gift certificates to be raffled and Sloppy Joe's. From raffles, live and silent auction, poker hands and donations…the monies raised were…$8,000.00!! We would like to thank the many sponsors… Politis and Matovina, Twisted Tea, WHOG radio, Budweiser, Miller Lite, Tracy Dillon Fundraiser, Iron Horse Saloon and to everyone who participated!!