By Amy Poole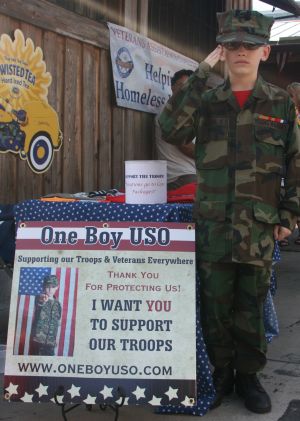 First let's say a BIG thank you to ALL the Veterans!!
Now let's say a BIG thank you to ALL who participated in the Veteran's Day All You Can Eat Breakfast at the Beaver Bar in Ormond Beach!!
Every Sunday at The Beaver Bar is the AYCE breakfast for a $5 donation and all proceeds go to local families and charities in need. Each week is some place different but the food is equally fantastic. Honoring our Veterans in November, friends and patrons at the Beaver Bar raised $1,400.00 during the AYCE breakfast and donated it to the Veterans Assistance Coalition.
Even a 10 year old little boy Cody Jackson drove from Georgia with his family to attend the breakfast. Cody is very aware of what our military does for us and how precious our freedom is…so he has taken on an obligation to thank as many troops as he can, has written 2 books, shook over 15,000 troops hands, sends care packages to the deployed and has been awarded numerous awards. What a kid!! Check him out at 1boyuso.com
Thank you Miss Leslye Beaver and Team Beaver for sprouting such good ambiance in our community!!!!