By Lulu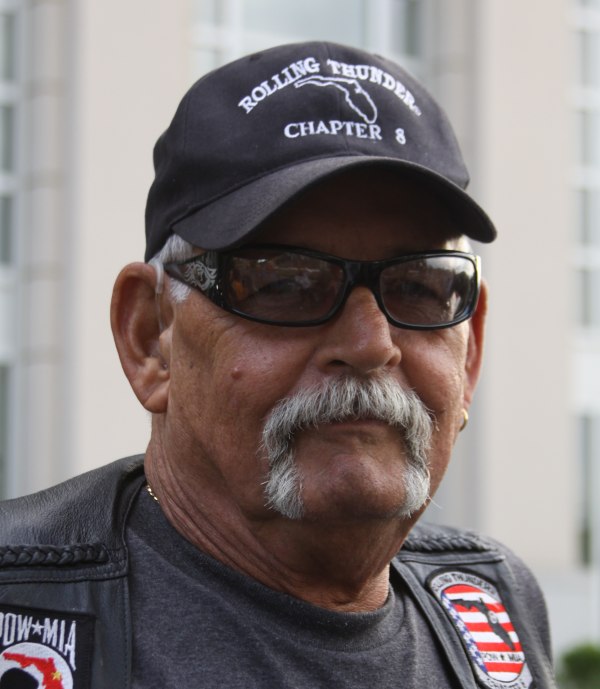 Friends come and go in life…some impact our lives so deeply that we just wouldn't be the same person without having them in our lives. Occasionally it is someone that you really haven't known long or even that closely. Just the small amount of time they travel down the highway of life with you changes you. My friend Bill Gruber was one of those men! He died last year tragically on his motorcycle traveling up north to watch a graduation of one of his grandkids. He is missed by his wife Nancy, his family, his fellow Rolling Thunder family, by many friends and by me (one of his biggest fans!). This month Rue & Ziffra law firm, Veteran's Assistance Coalition and Rolling Thunder Chapter 8 held a ride in Bill's memory to support veterans . Bill worked tirelessly in his neighborhood helping those in need, helping veterans and working with Rolling Thunder Chapter 8.
Bill convinced me a few years back to ride to D.C. with their Chapter and that was one of the life changing experiences I credit him for. I have always loved the men and women who protect our country, but I had an eye opening respect hit me in the face when I saw how the Vietnam veterans work to keep our current veterans from ever experiencing what they went through.
The other was when Bill asked me to go on a day of moving homeless veterans into housing. I watched a group of "way past middle age" men spend HOURS each week moving, packing and unpacking to put one more person into a home and off the streets, providing all the essentials needed to make a safe homey place for someone that 24 hours earlier had basically what would fit in a knap sack.
This is how Bill spent his life wasn't enough to have served our country in the military. He continued to do so right until the end. I was pleased when I heard about the ride to help veterans in his memory…nothing would have made him happier than to know the work he loved being a part of he was still impacting.
Thanks to Rue & Ziffra for being such loyal supporters of great community causes, to Beaver Bar for being the host for this event and to Rolling Thunder 8 and Veteran's Assistance Coalition for all their tireless work. And to each and every one of you who rode with us in Bill's memory!