By Tony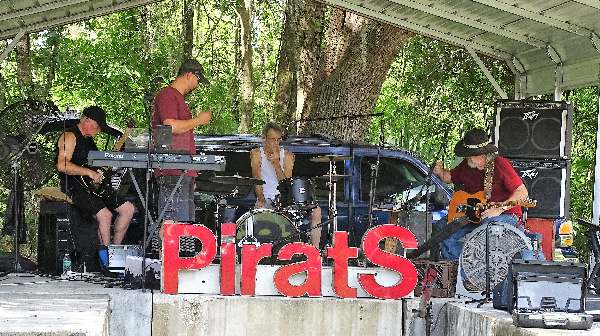 Phone rings 8am…first week we have worked in a month and guess who it is…my editor. Says you've just been invited to a birthday party at the Pirat's Oasis Bar in Weirsdale on the Ocklawaha River. Which means we got home at 3:30am from work, he's jammed up so somebody has got to go wake up TRex, grab a camera, fire up "Goldy" my old Softail and we're off.
The party is for Stacie, owner of the bar. We rode in with bikes already there and more coming in. Now I've never been there before, but this is a cool bar with a pool table outside, seating on the water and a boat ramp. Proceeds from the boat ramp go to Outreach Ministry and there's a donation container inside as well.
The Cutter Creek Band started playing and the party was on. The crowd of bikers and boaters partied together and were having one hell of a time. But it was also their first "Second Saturday" of the month Bike Days on the Tiki Deck, which means $10 domestic buckets 11a-5p. Don't forget the galley opens at 11am, so grab some Gator Tail, yum.
Not only is this a great bar, it's a nice ride…no traffic and hidden on the river. So, to Ali, the manager,
"Great party and thanks for the invite."
And to Stacie, "Happy Birthday!"
We will be back!