Phoenix and Metric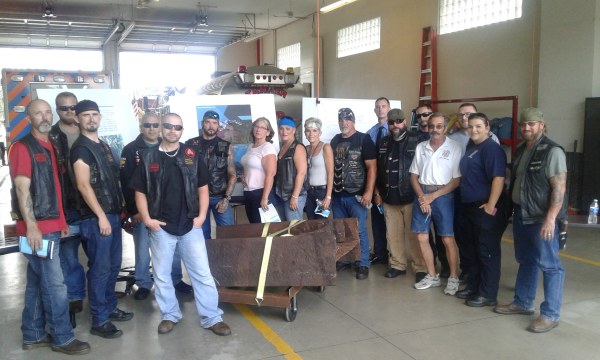 Everyone knows where they were on September 11, 2001. No matter what your take is on what happened on 9/11, that day changed the course in American History. Well, thanks to the West Sebring Volunteer Fire Department we all have a chance to honor the memory of all the Americans who lost their lives on that horrible day.
The West Sebring Volunteer Fire Department teamed up with the AMVETS Post 21 and Veterans-in-Arms VMC to host a day filled with fun, food and a very hot ride. The day started out with the Veterans-in-Arms VMC heading out. While the ride was one of the hottest ones we have ever been on, we hit some of the coolest stops along the way.
The first stop on our "hot' ride was just around the corner at the West Sebring Volunteer Fire Station #10, home to the 9/11 Memorial. The second stop was at the newest spot in town to enjoy a cold drink and hot food. Bo David's is the newest biker friendly place in Lake Placid. Next, we headed to one of the oldest and unique places in the county, \
Fred's Bar at Niebert Fish Camp. Fred's has been the place to stop on your way to or from West Palm Beach down Hwy 98 just outside of Sebring. After Fred's, we took the scenic route up the VFW in Avon Park to quench our thirst. The VFW in Avon Park is home to our brothers from the US Military Veterans MC.
The final stop was on the back roads to the AMVET Post 21 where the post hosted a fantastic poker tournament that lasted into the wee hours of the night. Special thanks to our brother from another mother "Dumpster Mike" for providing us with great entertainment. All the proceeds went to help with the cost of the monument. Come visit the Memorial at the West Sebring Volunteer Fire Station #10 on Hammocks Rd. Tell them Metric sent you. For information on how you can help click on the following website: https://westsebring.com/911-memorial.