By Lulu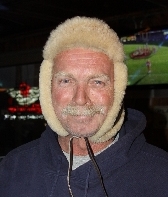 When the White Eagle scheduled their January Frosty Balls Fun Run the temperature was in the 80's. But the night of the run it dipped to low 30's just in time for the brave to don their leathers and ride, baby, ride!
I was surprised by how many turned out for the night ride. Meeting at the White Eagle our first stop was the Iron Horse where thankfully they had coffee which was perfect for the Kahlua! After pulling our card and warming our mittens we rode next to Rowsey's who provided food for those that were hungry and the warm soup was devoured!
Our next stop was Circus 2 and the temperatures were dropping drastically so the short ride down US 1 seemed more like a week than a few minutes. Our next stop was Saints & Sinners where Chris had a lively crowd. Everyone still seemed to be enjoying the ride as we saddled up for the ride back to the White Eagle and our final destination.
The band Old Haw Creek was rocking and by the time we left the Eagle it was after midnight and way below freezing. When I sat on the saddle for our ride home it actually crunched under me from ice! The plan at the Eagle is to do this again in the summer only it was be billed as a Sweaty Balls Run! What next?!