By Amy Poole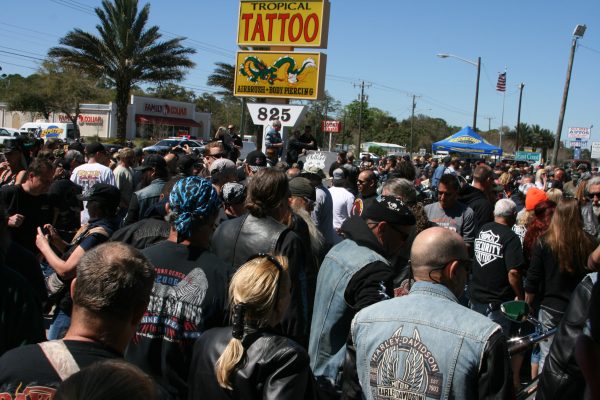 Another great event this year at Willie's Tropical Tattoo Old School Bike Show! The unique photos that are taken of the ol' school choppers and pretty ladies that play the part make this one of our favorites! Choppers, craving for attention, lined up waiting for their turn to be called for an award and many were hungry for some ink which turned the tattoo parlor awful busy! Live music filled Tropical all afternoon with people mingling about and our buddy Don Wood, from Moonshiners, made an appearance for some recreation time. This event is a must not miss, thus look for it in Thunder Roads Calendar Biketoberfest!!
Then it was time to drink some beer for the furry friends which are where all the proceeds went that day…to the Arni Foundation, a non- profit organization, located in Daytona Beach. Nikki Lynn, owner and founder of Arni, and her friends come together day after day to rescue these animals from abuse and cruelty. On Tropical Tattoo's Chopper Bike Show day Nikki and her friends lend a hand by giving their time and taking charge by shopping and stocking all the beer and drinks, bartending, getting the snacks, etc. Even Bob showed up walking tall and steady to help! Every year Nikki arranges for the new tees or tanks to be purchased with a new motto this year it said: Be Kind To Animals Or I'll Kill You. I loved it…you know I had to have a shirt!! All proceeds go to the furry critters that day from the items that you guys all purchased at the bike show. The monies raised was around $6,000.00 ALL of that going to Arni!!
Many thanks to ALL who came out that day…Willie and his crew, Dave Perewitz, Spectro Oil, Twisted Tea, J&P Cycles, patrons and every one of you that volunteered for making this day a huge success!!!