By Glenn Iannillo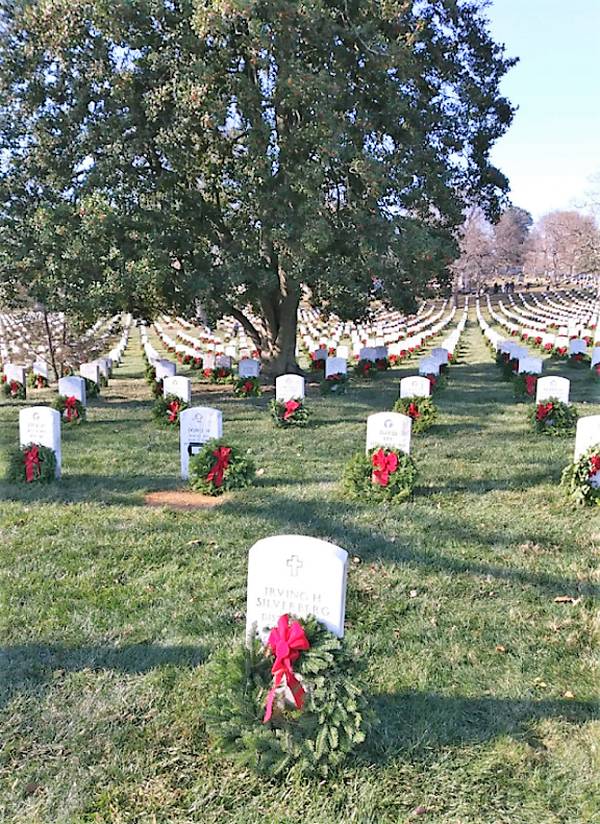 My trip to D.C. was amazing. On December 16th Martine and I along with my sister Gi Gi and brother-in-law Dave, volunteered to go to Arlington National Cemetery to lay Christmas wreaths on the graves of the brave. Although it was below freezing 27* and it had its sad and emotional moments we had a fabulous time. This was my fifth time at Arlington Cemetery where my father Anthony and my uncle James are buried. This place never ceases to amaze me. 630 acres of headstones as far as the eye can see. 65 trucks of wreaths are placed by 15,000 volunteers over six hours.
If you get a chance visit Washington DC this is an event you would be honored to be a part of. And if you can't make it to D.C. they have military cemetery
WREATHS ACROSS AMERICA
National Wreaths Across America Day takes place annually on the 3rd Saturday in December of each year.The Mission is to Remember, Honor and Teach. Itis carried out by coordinating wreath-laying ceremonies on the graves of Veterans throughout the country, including Arlington National Cemetery. To date over 1.2 million wreaths were placed in 1,500 cemeteries and other locations within the 50 U.S., at sea, and abroad. If you wish to honor our fallen heroes by sponsoring a wreath, the donation is $10, or if you wish to make a general donation to help sponsor the Rolling Thunder FL-8 "Wreaths Across America"2018 program, you can do so by going to: rollingthunderfl8.com and clicking on the side-bar link # 27, follow the mailing and or PayPal instructions.
Donations are now being accepted for the December 2018 Wreaths Across America and will continue throughout the year."