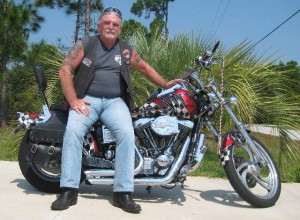 My name is Roy (Rooster) McCorkle. I have been riding since 1975, and I have been teaching motorcycle safety training since 2000. I got this bike during Bike Week 2008 from Destination Daytona.
This bike is very important to me, for it was this bike I was riding in May of that year when I got hit by a car which put me in the hospital for 14 days.
I spent those 14 days in a coma. I got a lot of prayers from all my friends and I pulled through. I was able to put the bike back together and ride it again; I took all the impact from the car hitting me. I got a lot of help and care from my friends, those on BikeorNot.com were there for me. My friends held a benefit for me, which helped me a lot. I just want to thank all those friends on BON and from Thunder Roads Magazine Florida, also from the White Eagle.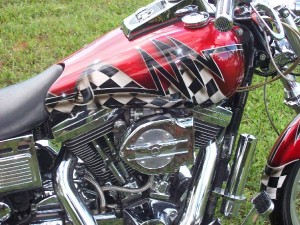 It was in October 2009, that I met my loving wife Debbie. It was during Biketoberfest, that she asked me if I could take her on a Plaid Skirt Parade. We have been together ever since. It was in June of 2010 we got married. We now live in Palm Coast.
I look forward to seeing all of you on the road or at one of Thunder Roads' events. Until then please ride safe and have a great time out there with the wind in your face. But most of all ride safe. Debbie and I love all of you.