By Lou Fiore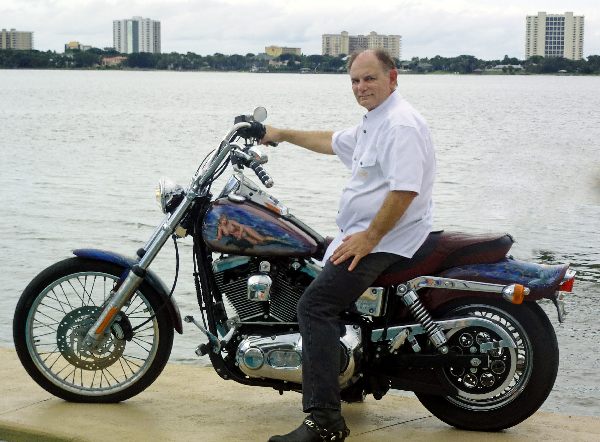 My wife, Marj and I relocated to Florida in the early 1990′s from New Hampshire and haven't looked back. We bought what was, at that time, a small 1 Hour Photo Lab and built it into a full service digital printing lab, now Speedway Custom Photo Lab. We haven't forgotten our roots in the retail photo business, but these days we specialize in large format printing of posters, Fine Art Reproduction, wall murals, banners, and tradeshow displays. Marj handles all of the custom framing, since she is an artist in her own right and has displayed and won awards for her oil paintings.
One of our finest jobs was creating, printing, and installing the wall murals in the Destination Daytona sales showroom.. The main wall murals inside the sliding doors are 14 feet high and the mural of the Ormond Beach Loop is 8 feet high and 50 feet long.
Prior to buying this Harley, I owned a couple of Honda Shadows. My son, who was a service manager at an Orlando motorcycle dealership, got me interested in the excitement of riding . But the allure of owning a Harley finally got the better of me. I bought this bike during the enthusiasm of Bike Week 2000 from Daytona Harley Davidson. It is a 2000 DWG. The bike is original except for the paint job, mirrors, and Corbin Seat. The original color was Pearl White. But after a while, my wife and I conceived the Mermaid theme to express our love of living in Florida next to the beaches. Chris Cruz did the paint job in 2004.
The bike has only 5,000 miles. The furthest it has gone is to Cedar Key. It is garage-kept and not ridden very often. Now it is time to hang up my spurs and sell the bike to someone who will love it. (386-299-5500)