By Lulu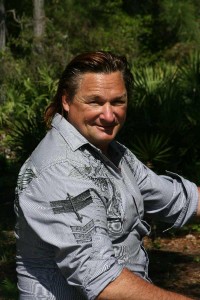 Another Bike Week has come and gone, and I must admit, although I am totally exhausted I enjoyed this one! I am often amazed at how, just when I think I have seen it all, Bike Week comes to town and I see creations I have never seen before. But with all the bikes that took thousands of dollars and hundreds of hours to create an OMG look, my friend Ray Campbell took the OMG Award this Bike Week; and he did it with T-shirts. That's right; he took his 2006 Victory Hammer and covered first the seat, then the tank and both fenders in nothing more than t-shirts.
Ray created a look that certainly is a show stealer. It isn't just that someone would think that far out of the box and create a radical look at less than $100 bucks, it is also that he did it so meticulously that unless you touch it people think it is a textured paint.
Ray started riding at 25 and his first bike was a Suzuki. He loves tinkering on bikes, and in fact, Ray installed the LEDs on his wife Felicia's bike that was featured in our March issue. Originally from Michigan Ray married Felicia last summer and they now live in Palm Coast. Ray is employed by Florida Power and Light. When I asked Ray what he loves about riding he quickly answered, "Being outdoors!" He spends as many hours as possible on his two wheels which combined with his awesomely recreated Victory makes him this month's Bull's Eye!