By Lulu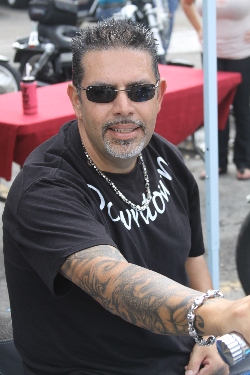 In Key West I was introduced to one of the owners of Downtown Baggerz, Ariel DeArmas. I was immediately impressed by the look of the bikes they create, but over the past few months I am equally impressed by the likeability of Ariel and his crew and the great American work ethic they follow. But this article is about Ariel born in Jersey City, New Jersey and raised in Ft. Lauderdale, Florida. He is a 48 year old who until 2009 only had bikes sporadically in his life. His first bike was at 20 and was a Suzuki 650, in his 30's he had a Ninja 600, but in '09 he got his a first Harley a Crossbones. What finally got him on the saddle on a regular basis were business associates that ride.
Starting out as an auto mechanic, he quickly realized he loved auto collision work because he "enjoyed seeing the fruits of my labor". He and his wife Rosamaria have owned Downtown Collision Auto Body Repair in Hollywood for 9 years. Brian Crowe and Ariel started Downtown Baggerz over a year ago and have already created many spectacular one of a kind creations. What sets his bikes apart are fabulous paint jobs, a sleek look and a functional ride. Their bikes are already winning contests. And customizing your bike doesn't have to break you since they have customized bikes starting in the $5000 range. His mission statement for both businesses is "fast, flawless and forever"! That is a huge promise in the world of collision repair and in bike customizing. Must be why Geiko sends all their repair work to his business.
When asked why he enjoys getting on two wheels his answer was quick and to the point, "I love jumping on my bike, turning on the radio and just riding; if I am angry or agitated it calms me." His first trip to Sturgis was 2011, but he and wife Rosamaria will both be going this year and he is eager to share the beautiful riding of the Sturgis area with her. He currently has a 2010 Road Glide and a 2011 Ultra Classic Limited. If you want to check out Downtown Baggerz they are in Hollywood at 110 N. Dixie Highway. You will be impressed!