By Miserable George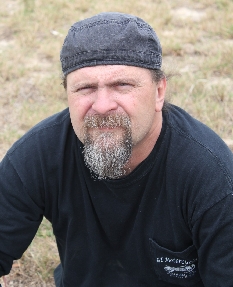 GARY BEDSAUL…GT MOTORCYCLES
I first met Gary back in 2010, soon after he opened his present day business – GT Motorcycles – on Allen Hill Ave. in the Pineda section of Melbourne, Fl. He's a friendly, out-going man, who has been associated with motorcycles almost all of his life, starting with dirt bikes at age 8 in the Coatsville-Lansdale area of Pennsylvania where he was born and raised. As a young man, he always worked on bikes.
He met his wife, Geri, in 2000 in Lansdale, and they were married in 2002, moving to Florida in 2003, where Gary worked in construction, and also helped out at Round-2 Motors in Cocoa after the owner took sick. This gave him the experience to open his own shop at 2840 Allen Hill Ave. in Pineda, where he and his partner Mel, with 3 full-time employees, are trying very hard to keep up with the tremendous amount of motorcycle service and repair work on all makes and models, not to mention oil changes and tires.
The 2000 sq. foot shop boasts 4 lifts, and a myriad of tools and equipment, it will soon include paint and powder coating, which will enable GT Motorcycles to round out their complete custom services.
Gary can also be counted on for charitable contributions at the many greater Space Coast motorcycle benefit runs. They also feature a 24-7 pick-up service. He is proud of his "old-school" biker background…the way he was taught! His present ride is a 2004 HD Dyna-Wide Glide.
Problems…? Give Gary a buzz at 321-255-2453.