By Len Parker
---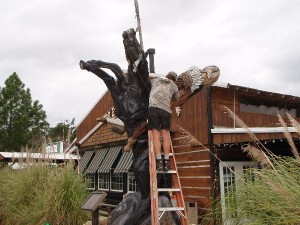 This month's Bull's Eye is about a very unique individual, Mark Myers. Mark started riding as a kid when his dad got him a Rupp Black Widow mini-bike. From that time on he's always had some kind of motorcycle. Today he rides a 96 HD Soft Tail.
Most only know him as "Mark the Carver". If you've ever been to The Black Cloud Saloon in Bunnell you've seen his work. It's the very impressive carving of an Indian on a rearing horse.
I met Mark for the first time during Biketoberfest 2007 while he was finishing up the final touches of his latest carving for John Seibel, proprietor of the Black Cloud.
Mark's carvings are renowned for their large size and exquisite detail. He's a natural born artist who has the ability to see the final carving in his mind before he even makes the first chip fly. When I interviewed Mark to get some background for this article he chuckled while reminiscing about almost flunking wood shop in high school.
He started his carving career quite by accident while working as a landscaper when one of his clients expressed an interest in his work. Upon returning with several samples they bought them all and even ordered more. That was it, game on! He never looked back and has never been at a loss for work. Currently he travels between his hometown in Michigan and Florida supporting himself and his loyal dog, Sadie while plying his craft. Although Mark is very humble about what he does, few artists would dare to attempt the scale he tackles with ease on a regular basis.
When asked if he's ever carved anything small, his answer is, "I'm saving that for when I'm too old to carve anything big". He currently has over a hundred chainsaws, most of which he has collected as antiques.
This article isn't long enough to do justice to Mark's story. You can hear him tell it on the web in the video interview I did with him.