By Miserable George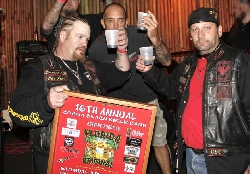 The 16th Annual Cocoa Beach Biker Bash, this year, doubled as a 30 year celebration for the founding of the Brevard Chapter Warlocks MC. The party actually began at the Station 23 Clubhouse on Friday night, with a nice crowd, live music, many out-of-town brothers and sisters, and the usual bevy of beautiful babes.
Saturday afternoon at 3PM, everyone headed for Capt. J's on the beach in Cocoa Beach, where the party began in earnest! Good food, every drink you could think of, again, live music, lots of hotties, T-shirt sales, a vendor or two…everything to put you in a party mood!
Several presentations were made to the Warlocks of Brevard in commemoration of their 30 years of existence. Also, there was an auction of various items to benefit the Shriner's Children Hospitals, who, by the way, receive all the proceeds from this event.
It was a bit nippy that night, but that didn't stop several of the ladies from baring some …er…assets! After things wound down at Capt. J's, the gang moved to the Wakulla Suites just south of there, and partied the night away! Lots of clubs present…a wonderful showing of brotherhood…no problems!
I'd like to thank the Warlocks of Brevard for their ever-present hospitality, and the staff at Capt. J's for fast and courteous service! A good night all around! Hey…see ya next year…??