By Phoenix and Metric
What more can a man ask for!!! I found them all at this year's Leesburg Bikefest.
BIKES
If it is called a motorcycle it was here in Leesburg! The streets of Leesburg were filled with every type of motorcycle you could imagine. Vintage motorcycles from days gone by, trikes, Customs, Metric and American made motorcycles. All of them were riding what we call "hills" here in Florida. Leesburg sits on what is called "the ridge" and offers some of the most unique rolling "hills" and curves in Florida. One thing we like almost as much as riding our bikes is to make our bikes stand out by personalizing them. Nothing could make your bike more "yours" than to personalize it with your own hand-painted design. While there were many talented artists on hand the one that stood out to me was Darren from nearby Umatilla. I was amazed by his talent to transfer an ordinary bike into a work of art.
BABES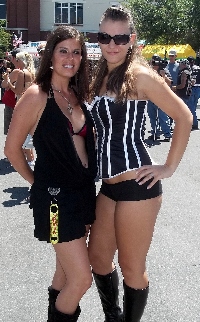 Hot, Hot, Hot! While the weather was "HOT" the women were even "HOTTER". Everywhere you turned you could see beautiful "HOT" women and some of them were on the arms of some of the most unusual characters you have ever seen!!! Now, you know why I ride a motorcycle!!!
BBQ
No bike event could ever be complete without "GREAT" food. If you ever met me you could tell I am no strange to the dinner table. I enjoyed some of the most delicious barbeque that ever graced my taste buds, thanks to the guys from Oakwood BBQ. The guys from Oakwood partnered up with Beacon College and leased out their diner facility right there on the main street. They hired students from Beacon College to work the event and for giving back to the community the guys from Oakwood are Patriots.
Last but not least, if you missed out on the THUNDER ROADS FLORIDA party at the Club Palace you really missed a great time!! Thanks to the band "Nightfox" for rocking the house!!! See you next year!!!
NOTE: Full coverage of Leesburg 2012 will be featured in July issue!